PREVIOUS REVIEWS
If you are curious on reading my previous TFP episode reviews, you can find 'em all in the Archive
here.PREVIOUS SEASON THREE REVIEWS:
Darkmount, NV
Scattered
Prey
Rebellion
Chain of Command
Plus One
Thirst
Evolution
Minus One
Persuasion
Synthesis

As always, SPOILERS
TRANSFORMERS PRIME, EPISODE 65: "DEADLOCK"
Very few story-driven cartoons ever get the chance to answer most of their questions and finish it off with an effective finale. In most cases, this is due to the dreaded cancellation. For shows that especially rely on continuity, it is the worst possible thing that could happen to them. There's usually only two ways a series finale will end up if it comes to that: It'll end in an abrupt cliffhanger or (And I think this is arguably worse) It'll have a rushed—often very rushed—finale that tries to wrap everything up in a completely unsatisfying manner. Unfortunately I see this lot.
I mean, at the top of my head alone…
Sym-Bionic Titan:
Lasted one season with Octus returning to life (so to speak), but the battle for Earth and the protagonist's home planet faaaaaaaaaaaaar from over.
Danny Phantom:
A shitty third season that did little to answer many of the burning questions of the first two seasons with an equally asinine ending as insulting as my Uncle Bob's rib-stained undies.
Young Justice:
Rushed ending AND a cliffhanger. Oh, and of course
TRANSFORMERS ANIMATED
whose series finale was…well, not awful, but less than desirable and unworthy of the massive amount of story and character development it built up.
Transformers Prime
got lucky because it doesn't suffer either of these ailments. "Deadlock" is honestly a damn near perfect finale; the show managed to resolve many of the plots while producing a high quality ending. I sort of saw it coming thanks—ironically—to Season Two and the veritable mess it created. That season alone introduced seasons-worth of plots only to wrap it up 3 – 5 episodes later, and then switching back to Status Quo with none the worse for wear. It was shitastic, BUT it
did
give Season Three the necessary breathing air to focus strictly on one or two directions that consistently led to the epilogue. Thanks to Season Two's fuck up, "Deadlock" didn't end up a mediocre finale. That is so depressing. ...Hooray?
It's not perfect, but a lot of my complaints are really minor. The Wreckers were underused and mostly relegated to background. Smokescreen decides to split up from his teammate to retrieve the Star Saber and at NO POINT does he even
think
to tell Arcee and Bee what he's doing for absolutely no reason. No, Smokescreen, you do not get to pull the "Just-Trust-Me" card even if you did slightly sorta mature in Season Three. Arcee's audible grown says it all. At least nobody endlessly praised him this time. His "Will-He-Or-Will-He-Not-Be-Prime" story has been left in the backburner and while I would be glad to never have to see it again, it is one of the few ignored plot points that can be brought up again in the movie. Nothing but the best for our little
special snowflake
, right?
Everything else is gold though.
The biggest surprise is Bumblebee. I went in the episode expecting a strict Optimus vs. Megatron battle and while there was plenty of that shit going around, it's Bee who delivers the final blow after the latter killed him. I did not see that coming. His death scene did nothing for me due to a combination of cheesy overdramatic overemphasis and Hasbro spoiling Bee's voice clip (damn it, I should not have watched or read anything because at least then, I might have been legit surprised when Bee temporarily died), but everything else blew my mind. Bee immediately—we're talking little more than a minute—hops back to life after that display of melodramatic ham and stabs Megatron. Such a mood whiplash would have been tasteless and idiotic. Not to mention giving Bee an important role like this doesn't work so sublimely because he's been a non-focus for most of the show. Bumblebee just was not utilized well and he spent the majority of
Prime
as a bland character with a gimmicky voice box. And yet somehow, this entire scene fucking
works.
Restoring Bee makes sense because he ended up in the Omega Lock. Given how important the device is and what it represents for the Autobots and Decepticons having fought so hard for, Bee's revival is absolutely symbolic and I can dig that. And though it was downplayed, Bee getting his voice back after seasons of beeps and boops and the joy he feels is nothing short of satisfying. Shit, I even liked that Bee got up so immediately after his death. I think lingering over it as the Autobots angst until the final moments of the episode would have made his death cheaper (read: "Toxicity" and "Hurt.") Plus, I think it totally makes sense that out of all the Autobots that's not Optimus, he be the one to end Megatron: dude broke his voice box, he gets to break his spine. It's sweet,
sweet
karmic payback. It's a moment filled with brilliance.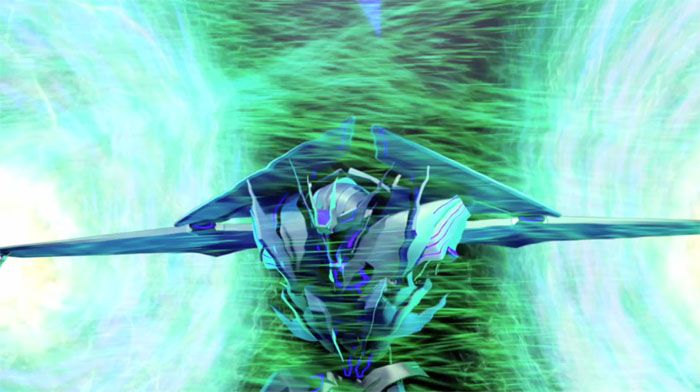 Speaking of brilliance,
OMG SOUNDWAVE HOW DO THING!?
Soundwave's rarely been defeated, dude's like the ultimate warrior, so how does one kill him off or win a fight against him? I admit I was super curious about this for the longest time because if they were going to fight Soundwave, it would have to be MEGA believable; I simply just could not perceive anyone actually winning against this badass motherfucker. Turns out, the kids didn't need to bother. Jack's plan is wily: use Soundwave's space bridge trick against him and warp him off to the Shadowzone. Shit, I forgot about the Shadowzone, but shitter, that's fucking brilliant!
I know what Starscreams tend to do, I've been preconditioned to think he'd raise a fist in triumph the moment Megatron bit it, but no, he didn't. After the events of "Patch", Starscream's been immensely loyal to his master and the Decepticon cause without losing his sneaky streak. Starscream is psychologically warped enough to give Rung even materials for a tell-all novel, no matter how much Ol' Buckethead physically abuses him, Starscream will still vow vengeance on the Autobots for his death. I mean, Christ, dude was practically trying to lunge after them and probably would have gotten killed if Shockwave didn't drag his kicking and screaming chassis away. Holy
Shit
, Starscream, it's not easy being the trophy wife, is it? I...I kinda like it? I mean, it's a different aspect of Starscream and I'm mad curious on what they plan to do with him in the movie. ...Yay? Also, also
also
I just love that he escapes the
Nemesis
with his rival, Shockwave. I especially love that Shockwave eventually realized how the Seeker feels about him enough to essentially tell Starscream to kindly shut the fuck up.
I called Predaking's diminished role because it's pretty damn clear he'll have a bigger role in the upcoming movie. He's resorted to a cameo, but even that tiny moment says a lot about his character. Look at his face; he is in awe seeing Cybertron for the first time. Like the rest, he's home. Now him I am looking forward to in the film.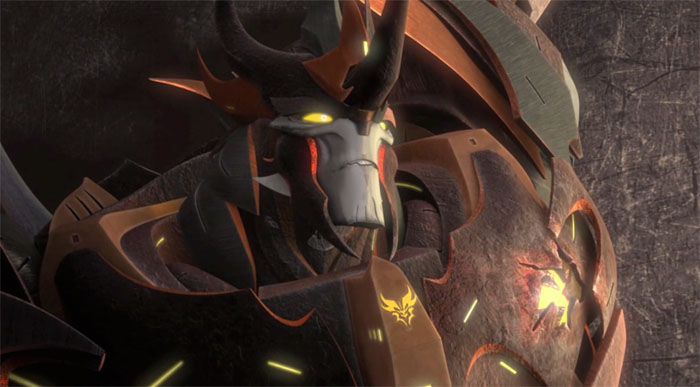 Knock Out is one of the remarkable few whose fate is slightly more ambiguously left up in the air. He spends most of the episode dodging lasers and getting the shit out (hilariously so, dude's always been a weasel) before casually joining Team Prime (read: failing.) The last part is the interesting part. I'm aware the entire segment is played out as a joke and shouldn't be taken seriously, but he's my favorite character, so indulge me while I speculate the shit out of this scene. Knock Out's main issue is that he doesn't often get the respect he desires. This dates back to mid-Season Two when he growls bitterly at Soundwave in "Triage" after Megatron ordered him to patch up the spy before his own—and far worse—damaged chassis. After Starscream's temporarily absence, he was often the go-to guy to butt monkey the shit out of and he's complained about it here and there. Last episode had Ratchet thanking Knock Out and though he was being nonchalant, Knock Out seemed to appreciate someone praising him. A combination of his butt monkey role, actively insubordinate than Starscream when he feels like it (remember "Speed Metal?"), and an admitted love for Earth culture—if not their chose in vehicles—could provide the leverage needed for Knock Out to join Team Prime outside of a cheap joke. War has no sides and with Ratchet staying on Earth, the Autobots do need a medic at hand and as many helpers as they can get to clean up Cybertron. …Okay, the show is too black and white to probably do that and they'd likely dump his ass in a prison cell, but damn it, I need to know what happens to him. The biggest reason I want the stupid movie is just to know what Knock Out's future is, even if it's just a minor scene.
Speaking of Ratchet, I love that he chooses to stay on Earth. He was the Autobot least tolerant of the planet and its inhabitants at the start, so to volunteer to stay proves how far he's come along and how much this little blue planet (and especially the human friends he's made) means to him. And hey, I think it may do well to at least have one Cybertronian on the other side to keep better communications with the rest on Cybertron. I also love that his story ends and wraps around with Bumblebee's. Distressed over Bee's voice box, it's only fitting his completed synthesis formula be the one to cure it. Poetic. Bee hugs Ratchet and it is adorable.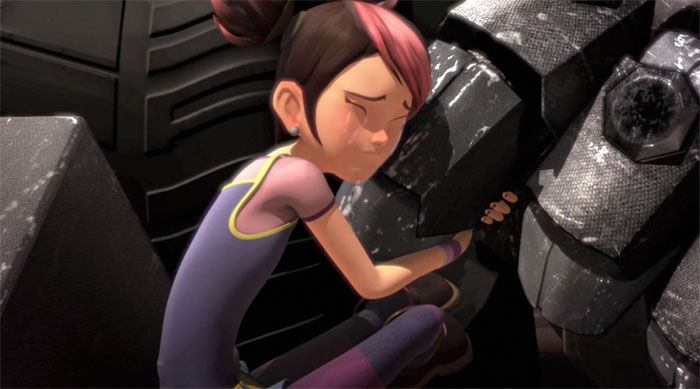 I am really impressed they managed to figure in and focus on so many characters within the first twelve minutes. It's an expert level of pacing this show usually has a poor grasp of. That leaves the second half for the restoration and the Big Goodbye. Their farewells are appropriately emotional. Miko crying on Bulkhead's feet is good, but I liked Raf and Bumblebee's exchange the best. The scene isn't so drenched in its own sadness to make it feel more permanent than it really is—it's clear return visits will be a norm in the future. The ending has just the right amount of bittersweet.
With that said, another
Transformers
show come to a close (with the exception of the movie.) Thanks to everyone who enjoyed my ranting. It was…well, the show hasn't changed my mind since the beginning: it's still lukewarm. It's a stepdown from
Animated
and I think
Rescue Bots
balances its story and characters better.
Prime
isn't an awful show by any means, but it's mostly flash over substance produced what is honestly an average, mediocre series. In some ways, that's worse because it means the series has proven capable of great episodes and character developments, only to collide like an epic plane crash by countering it with some mind-bogglingly dumb shit. But I don't need to elaborate; I have articles that do it for me. I can safely say
Transformers Prime
started and ended with a bang. Like literally. Because "Darkness Rising" and "Deadlock" were both good. The rest in the middle…ehhhh.
That said, I still had fun, if not in a sort of Stockholm Syndrome sorta way. And hey, at least the toys are cool. Needless to say, for good or ill, I am still looking forward to the movie. This is going to be a blast.





:
OUT OF FIVE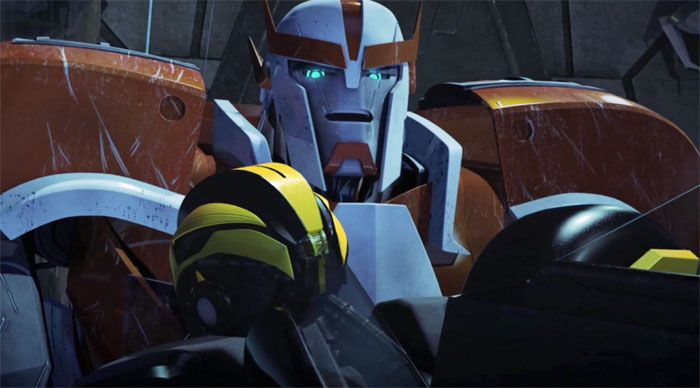 BONUS OBSERVATION
TAKE YOUR LOGICAL TIME:
Pfft, gotta love Shockwave, he's close to blasting Ratchet's lights out, but when Megatron calls, he handles that first. Well, Omega Lock is priority number one, but he doesn't even bother to blast a quick shot once before answering, he just
had
to get the phone. I just…this guy. XD
SOMEWHERE, IN A LONE BEACH:
Two kids are strolling by when they spot a giant purple sword that landed from space and wonder if aliens are among them. Then a giant gray robot falls from the sky and squishes the two kids. Nobody said Jumanji in time.
SO NOW THAT BEE HAS HIS VOICE BACK...
He should give Blades a call and, well, see where things go from there.
BEST LINE:
Starscream:
Rrrgh, your elbow articulator is digging into my lateral flexer!
Shockwave:
Do you intend to whine for the duration of the voyage?
DAMN YOU TWO I SWEAR I WILL TURN THIS POD AROUND AND NO DISNEY WORLD FOR THE REST OF- OH THAT'S IT, BACK TO WINNIPEG!
RUNNER-UP:
Bumblebee:
Raf…
Raf:
I know Bee, you don't have to say anything.
Bumeblebee:
I never did.
Excellent exchange between the two with dialogue that fits tremendously.
WORST LINE:
None
<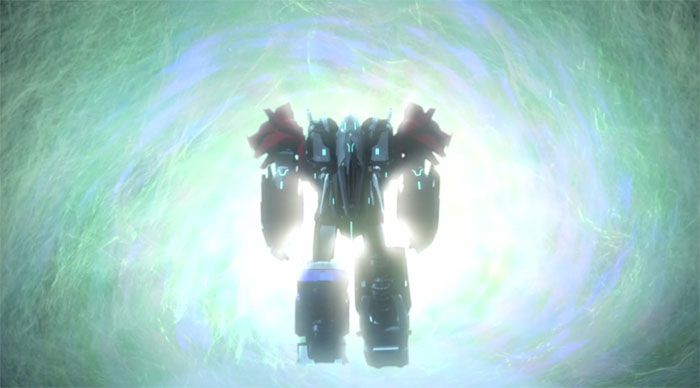 ________________________________________________________________________________________________

STUPID FANCOMICS

Discovery (A Transformers Animated Fancomic):
Read the entire thing here. More updated as the series progresses. Placed there for archival purpose.
Chess Piece (A Danny Phantom Fancomic):
An AU
Danny Phantom
comic. It's been canceled, but for those morbidly curious to read this convoluted train wreck, the link is here.

OTHER STUFF

Archive
If you ever want a list of links to all the reviews/rants/analysis/time-wasters I wrote.
My Twitter:
Follow me ramble in 100+ words or less here.
My Tumblr:
Lots of pretty pictures I like. I may also submit sketches of "Discovery" that I won't put on DA.
Ask Crescendolls on Tumblr:
Ask those four losers (and their cats) whatever you want.
"Discovery" TVTropes Page:
I actually didn't make this TVTropes page. Someone else did and that person has my eternal thanks. So I'm promoting it because, well, it's my fancomic. XD
REQUESTS:
No, I do not. Sorry.